File size: 18 MB
Recover lost and deleted spreadsheets in Microsoft Excel and OpenOffice formats! Starus Excel Recovery combines quick and comprehensive recovery in a single tool, allowing users to either quickly undelete documents from cleared Recycle Bin or perform a comprehensive analysis of the entire physical device. The comprehensive analysis mode allows surefooted recovery from formatted, repartitioned and inaccessible devices. Microsoft Excel XLS/XLSX and OpenOffice ODS spreadsheets can be recovered regardless of the version. Spreadsheets are recovered complete with all formulas, scripts and embedded objects.
Best in Class Recovery Engine
Starus Excel Recovery uses one of the best data recovery engines on the market. This content-aware recovery engine comes directly from the company's top of the line partition recovery tool, enabling low-level access to formatted, repartitioned and corrupted hard drives and other types of storage media. The low-level recovery engine reads the entire content of the device looking for matching signatures representing Excel or OpenOffice spreadsheets. After identifying a signature, the tool can then calculate the exact location and size of the file. Content-aware analysis can reliably recover files stored on corrupted, inaccessible, formatted and repartitioned hard drives in full auto mode.
A Dedicated Spreadsheet Recovery Tool
Starus Excel Recovery is designed specifically to recover spreadsheets produced by all versions of Microsoft Word and OpenOffice. The tool supports Microsoft XLS and XLSX spreadsheets saved by Microsoft Excel 95, 97, 2000, 2002 XP, 2003, 2007, 2010 and 2013. In addition, Starus Word Recovery can recover ODS spreadsheets saved by all versions of OpenOffice. The complete list of recoverable formats includes all of the following: *.xls, *.xlt, *.xlsx, *.xlsm, *.xltm, *.xltx, *.xlam, and *.ods.
Recover the Entire Content of a Spreadsheet
Long gone are the days of static, table-only spreadsheets. Today's spreadsheets feature formulas, graphs, scripts, embedded pictures and objects and analytic functionality. Starus Excel Recovery will successfully restore the entire content of a spreadsheet including all of the following:
- Sheets, rows and columns
- Dynamic items such as formulas, graphs and analytic functions
- Embedded pictures and objects
- Drawings and charts
- Links, URLs and cross-references
- Styles, borders, headers, merged cells and other table-specific formatting
- Comments and revision marks
- Document metadata
- Recycle Bin and Shift+Del Recovery
Starus Excel Recovery comes with two recovery modes: Quick and Comprehensive. The Quick Recovery mode comes handy when you have just emptied the Recycle Bin or deleted an important spreadsheet with Shift+Del, undeleting your files in a matter of minutes. Starus Excel Recovery offers blazing fast recovery for recently deleted documents.
Recover Spreadsheets from Damaged and Repartitioned Media
The Comprehensive Recovery mode scans the entire content of the device in low level, allowing surefooted recovery of spreadsheets stored on damaged, corrupted and inaccessible media. Even if you repartitioned your hard drive and formatted the newly created partitions, Content-Aware Analysis available in Starus Excel Recovery will still be able to identify, locate and recover spreadsheets.
Recover Spreadsheets from Formatted Disks
Formatting a hard drive is not a problem if you used the "Quick Format" option. Use Starus Excel Recovery in Comprehensive Analysis mode to analyze the entire volume in low level, and you'll be rewarded with many files being recovered.
Recover NTFS-Compressed Spreadsheets
Kept your work in a compressed folder? No problem! Starus Excel Recovery shares its data recovery algorithms with the company's top of the line tool. As a result, the algorithm fully supports things such as NTFS compression, enabling you to seamlessly recover spreadsheets from compressed disks and folders.
Our Guarantee
Ever used a data recovery tool listing thousands of files but ending up recovering just a few of them? This will never happen with Starus Excel Recovery! We perform an automatic integrity check on all documents before adding them to the list. As a result, you will only see spreadsheets that are guaranteed to recover and open successfully. With this built-in integrity check, Starus Excel Recovery can proudly offer a 100% recovery assurance.
Preview Before You Recover
Starus Excel Recovery comes with a fully featured Excel viewer, allowing to preview spreadsheets before they are being recovered. The viewer displays recoverable documents complete with all pictures, objects and formatting, allowing you choose the latest saved version of a document to recover. The viewer does not require Microsoft Excel or OpenOffice to be installed.
Recover Password-Protected Spreadsheets
Password-protected spreadsheets can be recovered just as easily as ordinary ones.
Starus Excel Recovery can successfully recover spreadsheets that are protected with a password, including those encrypted with password-to-open.
Recover Documents Lost after Virus Attacks
Virus activities can be devastating, either destroying or locking access to user documents. Starus Excel Recovery was tested on multiple computers suffering virus attacks, successfully recovering locked and deleted documents. Note that in many cases you will have to use content-aware recovery (the Comprehensive Analysis option) in order to recover spreadsheets after a virus attack.
Recover Spreadsheets You Never Saved
Did you know that Microsoft Excel's default behavior is to save backup copies of spreadsheets you are working on every few minutes? These temporary files can be named differently, but they do contain the most recent version of your work. Starus Excel Recovery is designed to look for these temporary files, often allowing you to recover documents you never saved – or restoring a more recent version of a document if you experienced an unexpected system shutdown while editing a document.
Guaranteed Safety
Starus Excel Recovery takes the safety of your information very seriously. Its disk access operations are 100% read-only on any disks and partitions that contain files to be recovered. Want even more safety? You can opt to create a bit-precise snapshot of the disk being recovered in one long read operation, and continue recovering files from that virtual disk image. The benefits of this approach are obvious: you are minimizing the number of access operations to the potentially unstable storage device, and if anything goes wrong with the disk later on, you'll always have a copy of your data in the form of a virtual image.
Screen :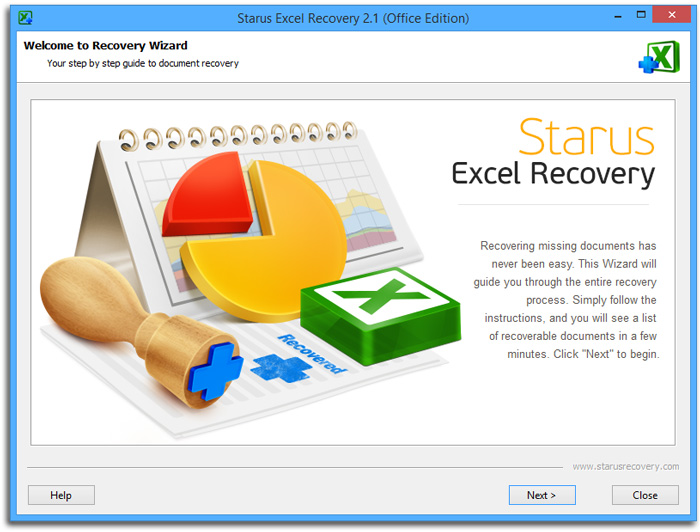 What's New

official site does not provide any info about changes in this version

HOMEPAGE

https://www.starusrecovery.com

Buy Premium Account From My Download Links & Get Fastest Speed.