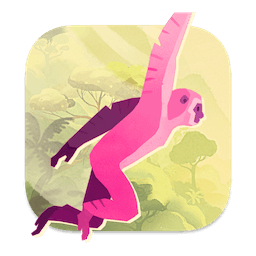 Gibbon; Beyond the Trees

Genre: Adventure
Publisher: Broken Rules
Language: Multilingual
File Size: 869 mb
A beautiful new adventure by the two time Apple Design Award winning developers of Old Man's Journey and ELOH, in which a family of gibbons finds themselves lost in a dangerous world beyond their understanding.
- Experience free-flowing dynamic movement based on brachiation, the way real gibbons swing through the trees
- Master acrobatic moves, including launching from another gibbon's hands in mid air
- A touching adventure of a family of gibbons trying to survive amid an encroaching human threat.
- Play through an hourlong adventure in story mode, or race to freedom through a procedurally generated jungle in liberation mode.
- Stunning 2D hand painted visuals that breathe life into a rapidly vanishing world.
- Explore varied environments, from the wild jungles of Southeast Asia to the hectic human world beyond.
- Gibbon: Beyond the Trees deals with challenging but acute environmental topics, including deforestation, poaching and climate change.
macOS 12 or later required
Homepage
https://apps.apple.com/app/id1482634476