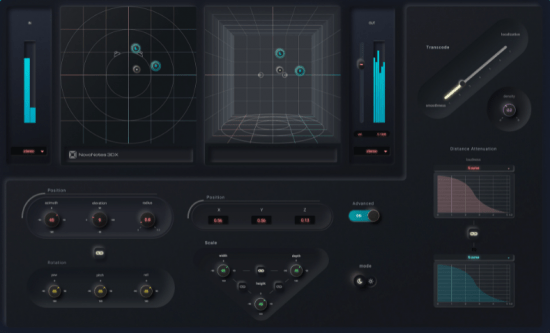 TeamCubeadooby | Windows x64 VST3 | 25.5 MB
3DX is the first release under MAGNETICA studio's "NovoNotes" brand which is focused on the development of innovative sound production software. "The purpose of NovoNotes 3DX is to enable artists and engineers to create and experience sound as it's never been heard before," says MAGNETICA studio co-founder Satoshi Suzuki. "It combines the highest sound quality with a sophisticated workflow and an intuitive interface to herald a new era of immersive 3D sound."
Although NovoNotes 3DX incorporates all the functions needed for 3D audio production including panning, binaural processing, and ambisonics, its refined workflows allow the system to be operated intuitively, thus freeing and inspiring creators to do what they do best – create sound.

"However, 3DX doesn't only allow for the creation of sound – its incorporation of an Acoustic Field HPL (HeadPhoneListening) processor marks the start of a new era in 3D audio by connecting HPL with many creators," Suzuki says.

HPL made its mark at the 2019 Japan Professional Music Recording Awards with the winner of the high-resolution category (ViVa The Four Seasons by UNAMAS), and Miyu Hosoi's Lenna which claimed both the Excellence and New Prominent Master Awards employing the technology.

It is now gaining increasing attention as a binauralization technology that enables artists and engineers to deliver the precise balance and mix of music to the listener through headphones without compromising the sound quality.

"For a new generation of creators, the HPL sound quality and ease of use make it possible to create 3D audio just the way they want it," Suzuki says.

Features
All the functions needed for 3D audio production – panning, binaural processing, and ambisonics – in a single plug-in.
Transparent, high-resolution sound without unwanted artifacts.
Newly designed 3D panner for dynamic sound image movement.
Acoustic Field's HPL (HeadPhoneListening) processor for high-quality binauralization optimized for music production.
Sophisticated workflows that eliminate complex effects chains.

What's New
official site does not provide any info about changes in this version.

HOMEPAGE

https://novo-notes.com/3dx

Download From Rapidgator

https://rapidgator.net/file/87a1830b85ffa14f3497deab08fcdb20

Download From 1DL

https://1dl.net/v0vewh0dvske

Download From UploadGig

https://uploadgig.com/file/download/e0385c724EdCa78f/BaDshaH.NovoNotes.3DX.v1.5.0.WiN-TeamCubeadooby.rar

To Support My Work Buy Premium From My Links.