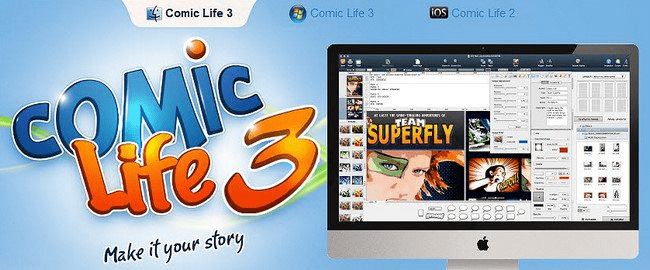 File size: 156 MB
Presenting Comic Life 3, the app with everything you need to make a stunning comic from your own images. Packed with fonts, templates, panels, balloons, captions, and lettering art, Comic Life is a fun, powerful and easy-to-use app with endless possibilities.
Whether it is photos of friends or hand drawn comic characters, Comic Life is the ultimate app for turning your images into a comic. Want to recount your holiday adventures or tell a life-story in an engaging style? Comic Life is the answer. What about creating an original story featuring you and your friends? That's easy with Comic Life.

It's the app with everything you need to make a stunning photo comic. Fonts, templates, panels, balloons, captions and lettering art. Simply add your photos and some words and very quickly you'll have a finished story. Comic Life is also great for doing school projects, how to guides, flyers for your business or group, storyboarding, lesson plans, book reports, Internet memes; and that's just to name a few!

Creating an original work is easy with the script editor. From script to comic page it's never been easier with the new Script Editor in Comic Life. When you're ready for a photo shoot, you can use the panel descriptions as a shooting guide! Then put it all together in Comic Life with the easy drag and drop feature for elements and lettering. It's your story from start to finish.

Photo filter effects and customizable lettering options really make your photos come alive. It really makes turning your pictures into comic artwork a snap. When you're done you can share your masterpiece with your fans in a variety ways.

New in Version 3:
30 New Beautiful Templates!
We went back to the drawing board and created a fresh set of templates that highlight the incredible tools you have at your fingertips in Comic Life 3.5.

These templates take advantage of Comic Life design features including full color halftone, page texture, 3D lettering, custom panels, and speedlines. We built these templates to make every page look like a professionally created composition. The best part is we have new templates for every comic category!

Script Editor!
Got a story idea that you want to make into a comic book? Write it out in the script editor so you're ready to take or find the photos you need to make the story come alive on the page. And taking your words to the comic page is easy with the SmartScript recognition system. Now with Comic Life 3.5, for example, dropping caption text from your script on top of a caption element on the page replaces the text instead of adding a new caption.

Advanced Filters!
New parametric filters make your photos even more amazing than before, including awesome new options like Rotoscope, Retro, and Sketch.

Instant Alpha!
Use the instant alpha tool to quickly knock out the background of your photos so you can place your characters in new locations or on dynamic comic book style backgrounds.

New Graphic Options
Brush strokes give your elements a hand drawn look. 3D lettering for stand out titles. New fill options for full color halftones, speedlines, textures and more to liven up your panels and lettering.

New Editing Controls
Parametric balloon shapes for more variety. Bendable connecting tails for extension bubbles. Rulers, alignment and spacing guides. Two up page display including facing pages. Master page for elements that need to be on every page.

Whats New

http://plasq.com/downloads/comiclife3/win/history/
HOMEPAGE
http://plasq.com/

Download From Rapidgator

https://rapidgator.net/file/3aaed64cddc8242183d551dcef9b8d7d

Download From Nitroflare

https://nitroflare.com/view/F15C9159B343097

To Support My Work Buy Premium From My Links.